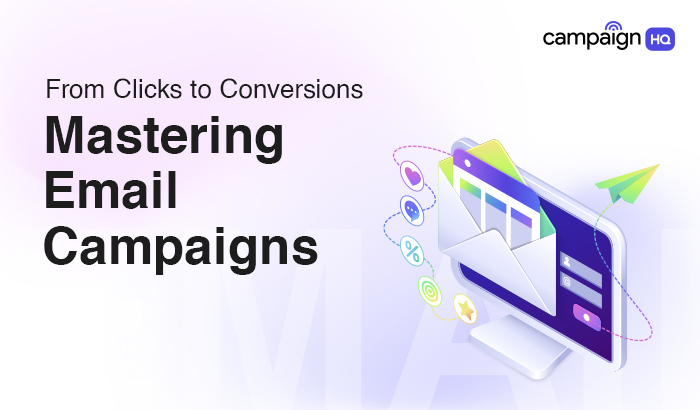 Elevating conversion rates: Unleashing the power of email automation tools
In the constantly evolving world of digital marketing, email campaigns remain a dependable and effective means to interact with your audience.
To get the most of this effective tool, companies must use the characteristics of modern email marketing platforms. We have pointed out how these email automation tools can be essential for improving conversion rates and ensuring the success of email campaigns in this blog post.
Segmentation and personalization
Using email marketing automation tools, you may segment your audience based on a range of criteria, such as demographics, activity, previous purchases, and more. By sending tailored emails to each group, taking into account their unique preferences and interests, you can make your content more enticing to them. . Beyond simply greeting readers by their first name, personalization entails creating material that speaks directly to their problems and requirements. When used effectively, segmentation and personalisation can greatly increase conversion rates and user engagement.
Testing A/B for continuous improvement
You may do A/B testing on many email components, including subject lines, email copy, calls-to-action (CTAs), and visuals, using efficient email marketing solutions. By experimenting, you can learn what appeals to your audience the most and adjust your strategy accordingly. Higher open rates, click-through rates, and ultimately conversion rates may result from these gradual advancements over time.
Automated communication: Timely message
Email marketing has been revolutionized by automation. You may set up automatic workflows to nurture prospects and move them through the sales funnel when certain events or actions are triggered by them. For instance, an automated welcome series might introduce your brand and gradually highlight your items or services when a subscriber registers up for your newsletter. Sending the appropriate message at the appropriate moment keeps your brand top-of-mind with subscribers and improves conversion rates.
Relevance-boosting dynamic content
The development of dynamic content that conforms to the tastes of each receiver is made possible by modern email marketing solutions. This can entail showing various products based on past browsing habits or customizing recommendations based on previous purchases. By delivering highly relevant content, you demonstrate that you understand your audience, which can significantly impact conversion rates.

Analyzing and iterating based on data
You may greatly affect conversion rates by showing that you understand your target by providing highly relevant content. Optimizing conversion rates is based on data-driven decision-making. Tools for email marketing provide in-depth analytics that draw important conclusions regarding metrics like open rates, click-through rates, and conversion rates. By periodically evaluating this data, you can see trends, discover what is effective, and make the appropriate adjustments to your strategy. This iterative process is essential to staying competitive in email marketing.
Spam protection and assurance of deliverability
No matter how wonderful your content is, it won't generate conversions if it doesn't reach the recipient's inbox. Email marketing solutions offer tools that help to maintain high deliverability rates by maximizing email send times, authenticating your domain, and keeping a look out for any spam triggers. Your emails continuously reaching their target audience increases your chances of seeing successful conversion results.
Your email automation journey starts now
Your campaigns can achieve greater heights by making use of email automation tools. A successful digital marketing plan continues to include email marketing as a critical element. These solutions include a wide range of capabilities, such as segmentation, personalization, A/B testing, and automation, to increase your conversion rates. Never forget that there is no one size fits all approach to email marketing; mastering email campaigns and achieving exceptional conversion rates require ongoing research and improvement.
Embracing CampaignHQ: Empowering your email marketing journey
CampaignHQ provides a comprehensive solution that accommodates businesses of all sizes with our user-friendly design, powerful features, and smooth integration abilities. With CampaignHQ, you can create intricately tailored programs and analyze real-time performance analytics, giving you unprecedented control over your email marketing.