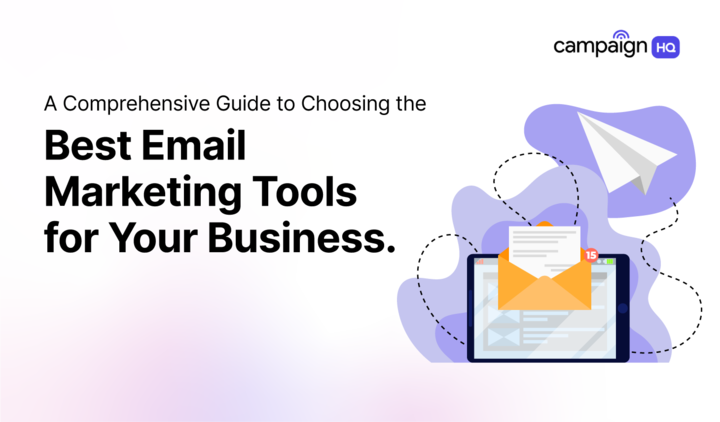 How to choose the best email marketing tools for your business?
Email marketing is an effective and economical way to interact with your audience, create bonds with them, and increase sales for your company. But with so many email marketing tools in the market today, picking the best one can be difficult. This comprehensive guide will walk you through the crucial variables to take into account when choosing the ideal email marketing platform to meet your company's demands.
Establish your requirements
Outlining your precise requirements in detail is essential before you start looking for an email marketing platform. Think about the following inquiries:
What are the aims and objectives of your email marketing campaign for business?
How big is your email list, and do you think it will continue to expand over time?
What kind of email messages do you intend to send? (For instance, advertising campaigns, newsletters, and automatic sequences)
Do you require advanced functionality like A/B testing, segmentation, or interaction with other applications (like CRM or eCommerce)?
"Your search for a tool that meets your objectives will be made easier if you have a clear grasp of your requirements."
User interface and usability
When selecting an email marketing platform, user-friendliness is crucial. Look for a user interface that is simple to navigate and that makes it simple to manage subscribers, generate and send emails, and track the success of campaigns. A drag-and-drop email builder is available in some apps, which is ideal for people without coding knowledge.
Ensure that the product offers responsive email templates so that your emails will appear excellent on a variety of devices.
Rates of deliverability
Your emails must arrive in your subscribers' inboxes in order for your email campaigns to be successful. As a result, pay special attention to the email marketing solutions' deliverability rates. Reputable tools frequently avoid spam filters and have high deliverability rates.
Availability and cost
When selecting an email marketing platform, take into account the current size of your company and its potential for future expansion. Based on the quantity of subscribers or emails delivered each month, several email marketing tools have tiered pricing. Examine these price structures to see which one best satisfies your needs and budget.
To prevent wasting money, find out if the tool charges for duplicate email addresses or unsubscribed contacts. Also there are several options available in the market for affordable email marketing tools.
Capabilities for automation
A strong feature called automation can help you save time and improve the efficiency of your marketing initiatives. A tool for email marketing that offers automated features like welcome emails, abandoned cart emails, and drip campaigns is what you need.

Options for integration
Integrating your email tool with other programs you use, such CRM software, eCommerce platforms, or analytics tools, is frequently necessary for effective email marketing. Make certain that the email marketing program you select provides seamless connectivity with the key programs in your tech stack. Your marketing activities will be more efficient and better data synchronization will be possible.
Reporting and analytics
Understanding the effectiveness of your email campaigns requires in-depth analytics and reporting. Look for a platform that offers insightful data on subscriber behavior, open rates, click-through rates, and conversion rates. The ability to conduct A/B tests is useful for improving the strategy and content of your emails.
Customer service
It's essential to have dependable customer service, especially if you run into problems or have queries about the functions of the tool. Verify that the email marketing tool's support choices, such as live chat, email support, or phone help, fit your requirements.
How to navigate through the sea of email marketing tools?
Making the best choice for your email marketing strategy is crucial since it may have a big impact on the success of your company. You can choose a solution that is in line with your business needs by defining your requirements and taking into account factors like usability, deliverability rates, scalability, automation capabilities, integration possibilities, analytics, and customer support.
Keep in mind that what is effective for one company may not be the ideal choice for another. Utilize free trials and demonstrations to try out several email marketing tools before settling on one. You can effectively engage your audience, encourage conversions, and take your business to new heights if you have the correct email marketing tool in your arsenal.
CampaignHQ is aware of the significance of effective and affordable email marketing tool. We've built a strong yet reasonably priced email marketing tool to satisfy all of your needs.