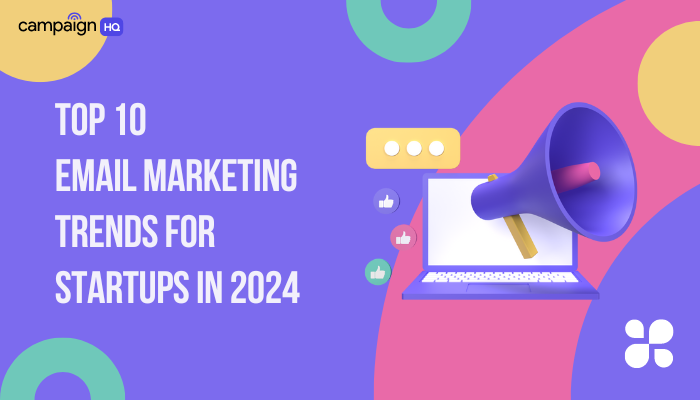 Top 10 Email Marketing Trends for Startups in 2024
Staying ahead of the curve in a world that is constantly changing has become necessary and digital marketing is essential for companies seeking to build a strong online presence. One of the best methods for connecting with clients and increasing conversions is email marketing.
New trends that have the potential to have a significant impact on the performance of email marketing initiatives are starting to emerge as 2024 approaches. We'll explore the top 10 email marketing trends in this blog post to help startups stay competitive and promote growth.
Personalization: The Basis of Successful Email Marketing
From its early days, when including a subscriber's first name in the subject line was revolutionary, personalization has evolved significantly. Startups have access to a wealth of customer data today, including demographic data, social network interactions, browsing history, and past purchases.

Personalization has become a potent marketing tactic that goes far beyond just including the recipient's name in an email. As 2024 approaches, startups are realizing that the key to true personalization is the capacity to leverage cutting-edge data analytics to build incredibly customized email campaigns that take into account unique user behaviors, preferences, and purchase histories.
Interactive Emails: Engaging and Immersive Experiences
In a time where visual engagement and interactive experiences are supreme, static emails, which were previously the norm, are no longer as effective. Startups are realizing that interactive elements draw attention and motivate users to engage with the email's content.

Startups are using interactive emails as a dynamic solution in the quickly changing world of email marketing, where it can be difficult to grab and hold users' attention. The days of boring, text-heavy emails that frequently go undetected in overflowing inboxes are over. Instead, startups in 2024 are embracing the potential of interaction by creating immersive and engaging email experiences that connect with users, increase click-through rates, and offer insightful data.
Startup Email Marketing Revolutionized by AI-Powered Predictive Analytics
Startups are constantly looking for new, creative methods to optimize their tactics and stay one step ahead of the competition in the constantly changing world of digital marketing. The incorporation of artificial intelligence (AI) and predictive analytics into email marketing campaigns is one of the most revolutionary innovations in recent years. This potent combination is changing the environment and empowering companies to provide their audience with extremely relevant, timely, and engaging content.
Storytelling in Graphics
In 2024, visual storytelling in email campaigns will become more popular. Startups employ emotionally stirring visual content to tell the story of their business and elicit feelings. Startups are using video content, infographics, and aesthetically engaging designs to stand out in crowded inboxes and make an impact on subscribers.
User-generated content (UGC) that is highly personalized
Although User-Generated Content has long been a potent tool, businesses are now going one step further by using UGC which is highly tailored. Emails, including client testimonials, images, and reviews add credibility and strengthen the sense of community surrounding the brand.
Designing Seamless Email Experiences for Startups Using Mobile-First Optimization
Email consumption, among other things, has changed dramatically thanks to mobile devices. Users are increasingly using their cell phones to interact with brands due to the ease of reading emails while on the go. Startups have been forced to modify their email marketing strategies in response to this change to make sure that their messages are not only visually appealing but also simple to access and use on mobile displays.

Startups are realizing the critical relevance of mobile-first optimization in email marketing in the current digital environment, where smartphones have evolved into extensions of our lives. Considering that a sizable percentage of email opens now occur on mobile devices, adopting this trend is no longer just a good idea—it's essential.

Marketing that prioritizes ethics and privacy
Startups are using ethical and transparent email marketing strategies in the age of data leaks and privacy worries. Establishing trust with subscribers requires getting their explicit agreement for data use and making privacy rules readily available. Industry norms are emerging in terms of respecting user preferences and facilitating simple opt-outs.
Personalized Content Suggestions
Startups are already using predictive algorithms to suggest tailored content within emails, building on AI capabilities. These recommendations generate cross-selling and upselling opportunities by examining previous interactions and purchase history, improving the entire customer journey.
Automation and Drip Campaigns
Even if email automation is still an essential component in marketing, companies are improving their methods. Drip campaigns provide a sequence of timely and pertinent emails in response to particular user actions or behaviors. Leads are nurtured, consumers are led through the sales funnel, and manual intervention is decreased.
Expanding Reach and Promoting Diversity in Startup Email Marketing through Accessibility and Inclusivity
Designing and distributing content in an inclusive manner enables everyone, regardless of ability, to access and interact with it. Startups are realizing that regardless of any potential limitations, every subscriber enjoys an option to interact with their emails and engage with their brand.

Startups are making aggressive moves to make sure that everyone can access their digital material, including email marketing efforts. Inclusivity is no longer seen as an optional feature and is now a crucial component of startup plans. Startups can reach a larger audience and show their commitment to diversity and equitable access by putting accessibility first.
Over To You!
Startups must modify their email marketing techniques as the digital environment changes to remain relevant and efficient. The trends listed above provide important information on the course email marketing will take in 2024.
You can develop engaging email campaigns that connect with their audience, encourage interaction, and propel business growth in the competitive digital market by embracing personalization, interactivity, AI-powered analytics, and ethical standards.
Why CampaignHQ?
Having the appropriate tools is essential in this fast changing environment. Our automated email marketing platform, which we developed as forerunners in this revolutionary era, is prepared to support companies on their journey.